Occupational Therapy Students' Congress 2012

Sunday, September 23, 2012 ( 6:37 pm )


Salam and a good day to everyone.

A quick announcement.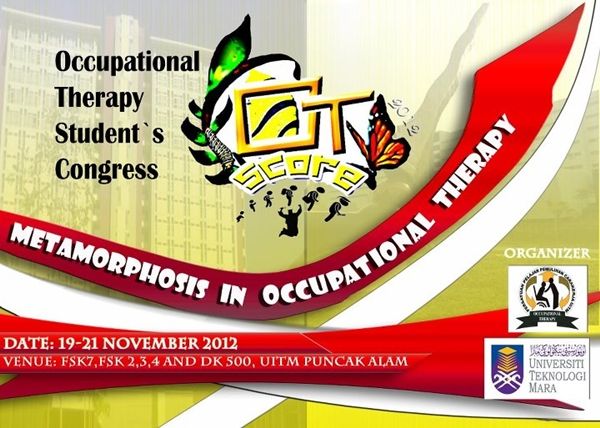 To all OCCUPATIONAL THERAPISTS, PHYSIOTHERAPISTS, SPECIAL EDUCATORS, REHAB SPECIALISTS, SOCIAL WORKERS, PARENTS AND OTHER MEMBERS OF THE MULTIDISCIPLINARY TEAM! Persatuan Pelajar Pemulihan Cara Kerja (PPPCK) of Universiti Teknologi Mara (UiTM) will be organising an OCCUPATIONAL THERAPY STUDENTS' CONGRESS in NOVEMBER 2012.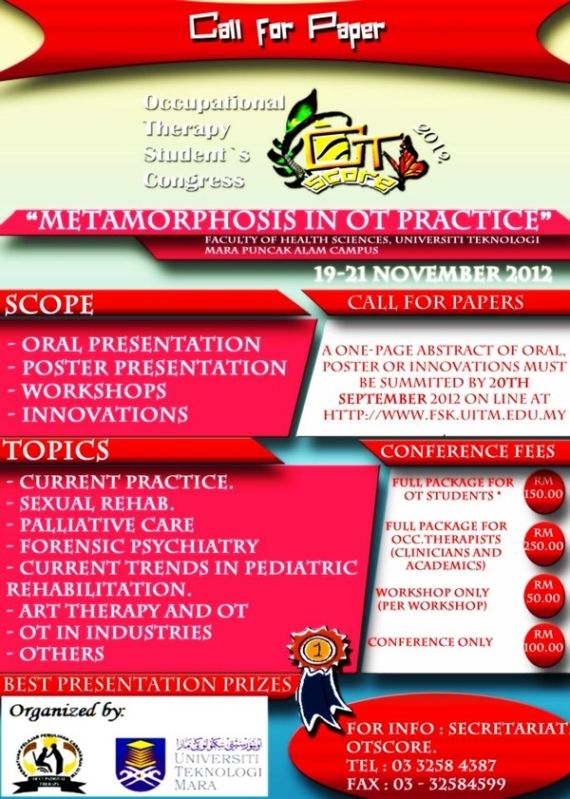 Below are the list of our targeted speakers and topics that will be discussed in the congress:


-Prof Dato Dr Zaleha (current rehab trend in Malaysia)
- Prof Chetwyn Chan (Hong Kong)
- En Soh Say Beng (hand splint)
- Pn Ooi Siew Chen
- Pn Nora Hamid (Forensic Psychiatry)
- Dr Sazlina Kamaralzaman (sexual rehabilitation)
- Prof Madya Dr Loh Sau Cheong (palliative care, Ot role in cancer)
- Prof Nathan Vytialingam
- En Jayachandran Vetrayan (mirror box therapy)
- Pn Rosilah Wahab (paediatric handwriting skills)
- Charlene Tan (dsyphagia management)
- Pn Smily Jesu Priya (movement Therapy for autism)
- Dr suleiman & En Ghazali (work rehabilitation)

For further details log on to www.fsk.uitm.edu.my or visit the official FB page at https://www.facebook.com/pages/Ot-students-congress .

Please share this with anyone relevant. Thank you very much!

p/s: Early bird price is available til 5th of October, 2012. So hurry!

:)

Labels: Occupational Therapy











© 2006-2011 The Real Life. All rights reserved. *Best viewed in Chrome (1280 x 800 pixels)